Eternal Chapels breaks ground in Naga City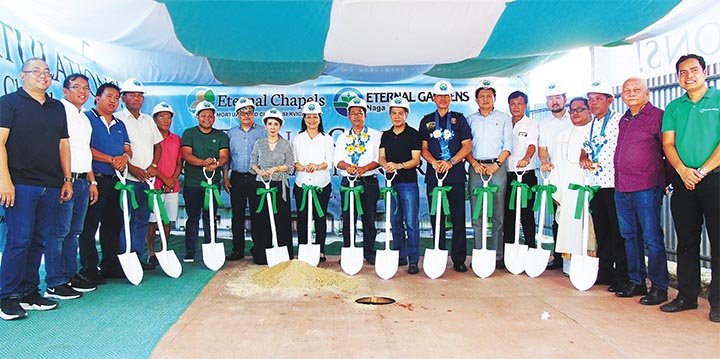 THE Eternal Chapels and Mortuary-Naga Inc., a provider of complete mortuary and chapel products and services, held its groundbreaking ceremony on Friday, June 22, at Eternal Gardens in Barangay Balatas, Naga City, marking the company's first expansion.
Naga City Vice Mayor Nelson Legacion led the local government officials who graced the event. They were welcomed by Eternal Chapels executives, headed by Chairman and CEO D. Edgard A. Cabangon.
The event started with a Thanksgiving Mass celebrated by Fr. Rhoeden V. Regalario, assistant parish priest of the Immaculate Conception Parish, who also officiated the blessing of the groundbreaking site that followed.
In his special message, Legacion thanked the Cabangon family for once again investing in Naga City through the establishment of the Eternal Chapels. He also praised Eternal Gardens, citing it as a "tourist destination" and memorial park in one.
"We in Naga look at Eternal Gardens and see a tourist destination for two reasons. First, this is where Jesse Robredo, our former mayor and also former interior secretary whom we idolized, rests in peace. Second, Eternal Gardens in really beautiful."
D. Edgard A. Cabangon thanked the city government of Naga for its warm welcome and unwavering support to the company. "I thank the city of Naga for welcoming our company in this city. Rest assured we will provide the city good service in return for welcoming our company into your city," he said.
Eternal Chapels opened its first branch at Eternal Gardens Greenhills Park in Cagayan de Oro City in 2017. It is a member of the ALC Group of Companies, founded by the late Ambassador Antonio L. Cabangon Chua, under the Eternal Group that includes Eternal Gardens, Eternal Crematory Corp., and Eternal Plans Inc.
Present during the groundbreaking are (from left): ALC Group of Companies Project and Development Head Engineer Mariano Hilario, Eternal Chapels Vice President for Finance Marvin C. Timbol, Engr. Don Emmanuel Santy, Naga City Councilor Salvador del Castillo, Eternal Plans Inc. Chairman T. Anthony C. Cabangon, Councilor Ray-An Cydrick Rentoy, Eternal Chapels Vice Chairman Benjamin V. Ramos, Eternal Plans Inc. Vice Chairman and CEO D. Antoinette C. Cabangon-Jacinto, Arch. Lerma Balolong, Naga City Vice Mayor Nelson Legacion, Eternal Chapels Chairman and CEO D. Edgard A. Cabangon, PNP Naga City Director Police Senior Supt. Jonathan O. Panganiban, Eternal Gardens President and Chief Operating Officer Numeriano B. Rodrin, Vice President for Chapel and Mortuary Operations Jaime B. Bangalan, Vice President for Sales and Marketing Jose Antonio V. Rivera, Fr. Rhoeden V. Regalario, Balatas Barangay Chairman Pedro San Juan Jr., Eternal Plans Inc. President and COO Elmer M. Lorica and Eternal Gardens Naga Branch Manager Richard B. Bringas.
*First published in the BusinessMirror on 25 June 2018